by Evan Bretl.
RoboRacing is preparing their newest and fastest robot, Rigatoni, for the evGrandPrix Autonomous Series event this September. In preparation for this, RoboRacing recently held two test days, which are meetings dedicated to validating assumptions and testing the robot end to end.
These test days in particular gave the electrical and mechanical subteams critical data to continue improving their designs. Due to personnel restrictions at the shop and the amount of testing to be done on the mechanical and electrical systems, the autonomy and navigation software was not involved in these test days. The main systems tested were the steering, emergency stop, main drive, and primary braking systems.
Rigatoni's steering system connects a stepper motor to the steering column through a belt. With the robot up on the stand, the control electronics and firmware were successful at turning the wheels in both directions. Taking Rigatoni off the stand, the team learned that in the worst case scenario (when the robot is stationary), there were several issues. The stepper motor skipped, the belt slipped, and the front wheels did not turn. The team plans to address these issues by 1) adjusting the belt sprocket sizes to give the motor more mechanical advantage, 2) changing the belt tensioner from a sprocket to a pulley, and 3) moving the tensioning pulley from the inside of the belt to the outside. These changes are meant to increase torque and reduce friction, preventing the issues observed during the test day.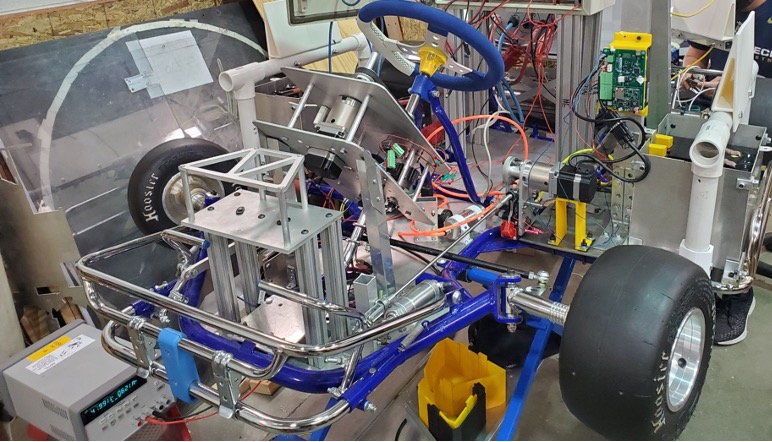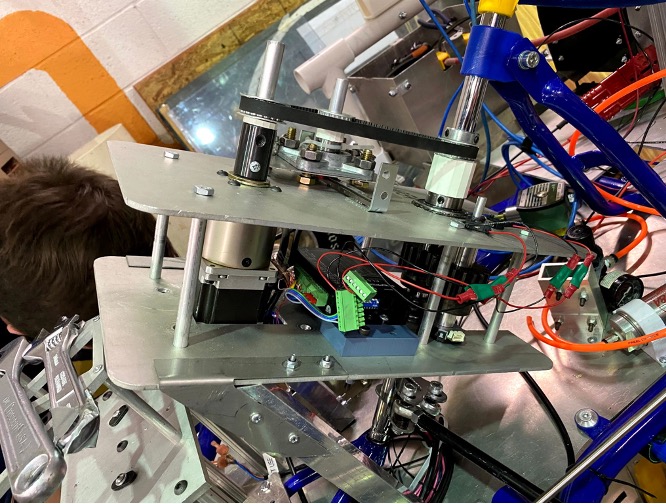 The team scored two major wins in their testing. The first was with the remote controlled emergency stop. The remote controller was able to communicate an emergency stop signal to the car, which released compressed air to apply the car's emergency brake. With higher speed operation, having a fail-safe method of stopping the robot is key — this will enable RoboRacing to perform better and safer testing in the future. The second big win was verification that the speed control system was working properly. The vehicle's speed is tracked using a break-beam IR light encoder (a new-member project) and motor controller. Rigatoni was able to hit a target wheel speed at the test day, and the team was able to independently verify this with a laser tachometer.
Finally, RoboRacing also spent time getting Rigatoni's primary braking system operational. This system uses a motor and lever to actuate the brake cable, as shown in the following animation below. During the test day, the team tuned the motor controller such that the lever could apply a useful range of braking forces, and they also adjusted the location of limit switches to prevent the motor from burning out.
Test days are usually very helpful for RoboJackets autonomy teams, and this one was no exception. RoboRacing came away with critical information to improve the steering system and showed that the Rigatoni platform is getting a lot closer to being ready for autonomy testing.