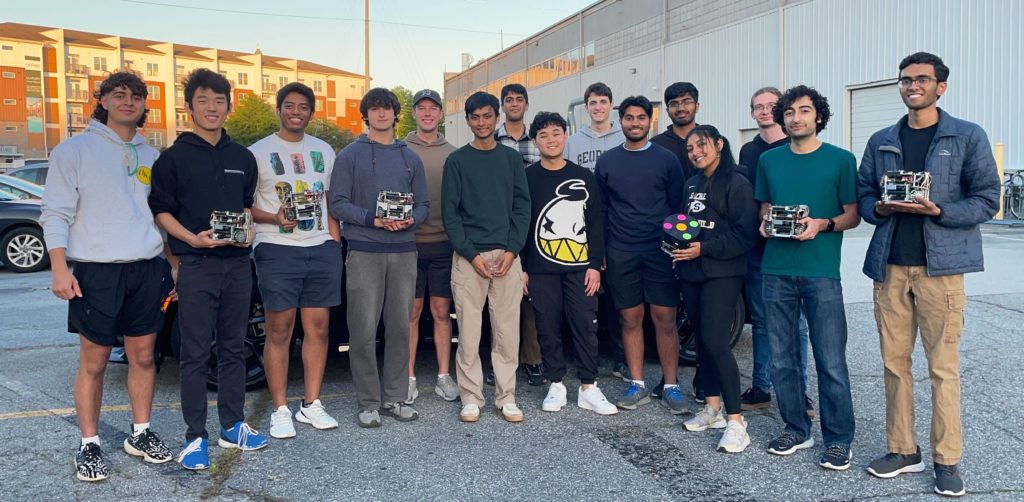 Our RoboCup team, started in 2007, is now on its 5th hardware revision. The team is working toward the 2024 World Event to be held in Eindhoven, Netherlands. Applying the lessons learned from previous years, our team hopes to emerge as a strong contender for years to come. As such, we strive toward innovation and hope to meet the goals of the RoboCup Organization.
The Competition
RoboCup
Our team competes in the small size league (SSL) of RoboCup. Here, a team of six robots which are limited to an 18cm diameter and 15cm height compete in a game of 6 on 6 soccer. These robots are autonomously controlled by top-down oriented cameras and wirelessly communicate with each other to defeat their opponents.
Team Information
Meetings
Sunday – 7:00 to 10:00 PM
Tuesday – 7:00 to 10:00 PM
* New members are only required to come to Sunday meetings for the duration of their training period, after which they will come to Sunday and Tuesday meetings.
Team Leadership
| | |
| --- | --- |
| Project Manager | Mili Das |
| Technical Director | Prabhanjan Nayak |
| Software Lead | Sid Parikh |
| Electrical Lead | Kelvin Hau |
| Mechatronics Lead | Nicholas Sackleh and Saihari Kota |
Mailing List
robocup@lists.robojackets.org
Wiki Page
http://wiki.robojackets.org/w/RoboCup
Calendar Feed
Add to Google