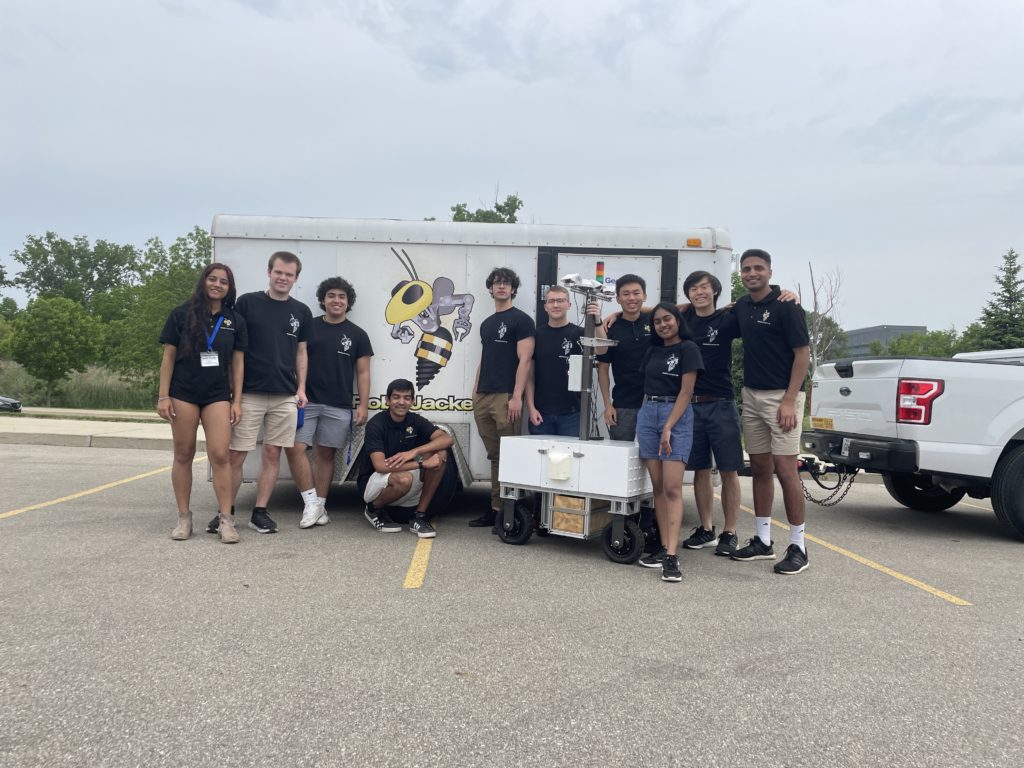 The RoboNav team is tasked with the construction of an autonomous robot capable of navigating an off-road obstacle course in varying weather and lighting conditions. The team works to mechanically and electrically design a large robot with an on-board computer. The robot combines a neural network and LiDAR data to observe its surroundings, detect obstacles in 3D, and safely navigate around them.
The Competitions
Intelligent Ground Vehicle Competition (IGVC)
IGVC is held by the Association of Unmanned Vehicle Systems International. Each year, over thirty teams bring unmanned, autonomous ground vehicles to this event where they must traverse an outdoor obstacle course under computer control. All teams are also required to give a presentation describing their design and submit a paper outlining their system. Teams are scored by their performance in the autonomous challenge, their presentation, and the design of the robot.
University Rover Challenge (URC)
URC is a multi-stage competition which involves designing, building, and commanding a rover-style robot in both manual and autonomous challenges. The competition is meant to simulate the conditions faced by Mars rovers, and as such consists of several missions: determining the presence of life in soil samples, retrieving rocks and other items, servicing equipment, and autonomously navigating the surface of "Mars" (actually the deserts of Utah). Teams must qualify through various reports and video submissions before being allowed to compete. The RoboNav team hopes to qualify for this competition starting in 2022.
Team Information
Meetings
Sundays – 4 to 7 PM
Wednesdays – 6:30 to 9 PM
New Members are only required to come to Sunday meetings for the duration of their training period, after which they will come to Sunday and Wednesday meetings.
Team Leadership
| | |
| --- | --- |
| Project Manager | Priyanka Rajan |
| Software Lead | Aidan Stickan |
| Electrical Lead | Andrew Roach |
| Mechanical Lead | Matthew Fernandez |
| Science Lead | Elijah Vazquez |
Mailing List
robonav@lists.robojackets.org
Wiki Page
http://wiki.robojackets.org/RoboNav
Calendar Feed
Add to Google