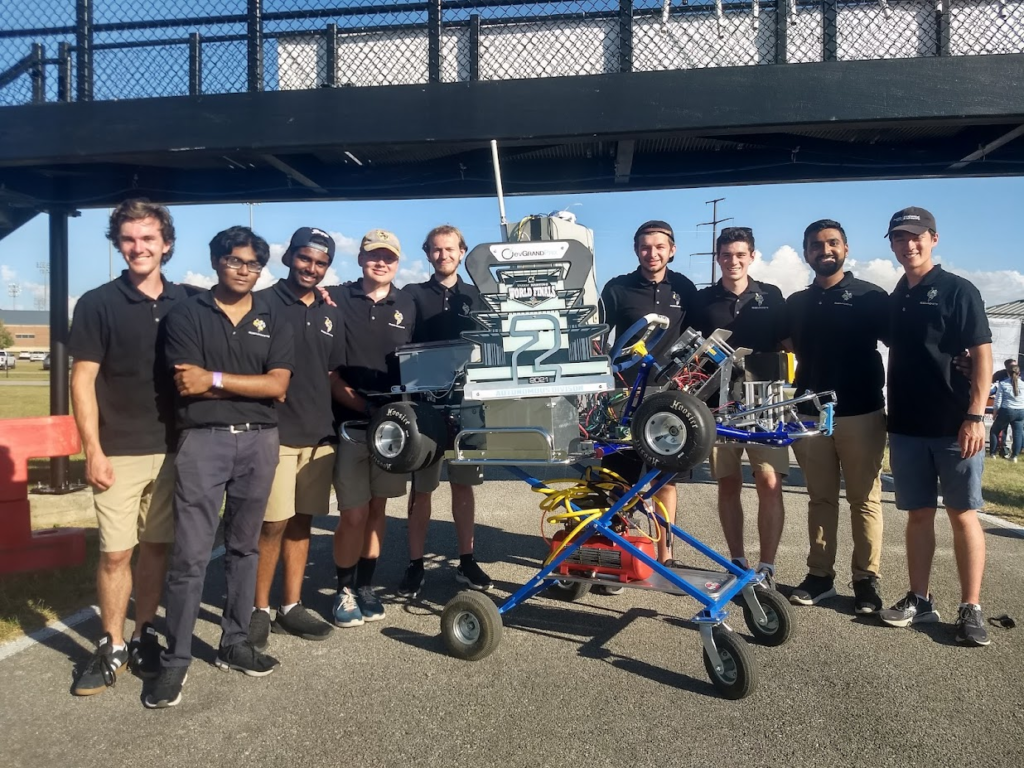 RoboRacing is RoboJackets' autonomous electric racing team. We build capable robots with car-style chassis and program them to navigate themselves around obstacles at high speed. Our team started in 2013, initially competing in the International Autonomous Robot Racing Challenge (IARRC) competition, building RC-sized cars, and has come in first place twice in the last four years. RoboRacing also used to compete in Sparkfun's Autonomous Vehicle Competition (AVC), though this competition was cancelled. Beginning in 2021, RoboRacing started competing in the EV Grand Prix (EVGP) autonomous division, building self-driving go-karts, and came in second place during the Fall 2021 Competition.
The Competitions
EV Grand Prix – Autonomous Division
After the cancellation of Sparkfun AVC, RoboRacing decided to expand to a new competition, EV Grand Prix, held in Indianapolis. This competition involves an autonomous electric go-kart race around a track at the Indy 500 Speedway.
Previous Competitions
IARRC Competition
Yearly circuit and drag race competition for RC-sized autonomous cars. Teams are scored based on their performance (read: speed) in the races, as well as written reports and oral presentations. The IARRC competition is held at the University of Toronto in Ontario, Canada.
Sparkfun AVC
In this competition, teams built and programmed the best autonomous cars to navigate obstacles as quickly as possible. RC-sized cars competed in Speed Demons, while our go-kart-sized ride-along car competed in Autonomous Car Wars. Teams were scored on a structured basis involving their performance in the race. The competition was held at Denver's Maker Faire. This competition held its final year in 2018 before being cancelled.
Team Information
Meetings
Sundays – 4:00 to 7:00 PM
Mondays – 6:30 to 9:00 PM
New Members are only required to come to Sunday meetings for the duration of their training period, after which they will come to Sunday and Monday meetings.
Team Leadership
| | |
| --- | --- |
| Project Manager | Megan Huang |
| Software Lead | Isaac Dale |
| Electrical Lead | Jackie Mac Hale |
| Mechanical Lead | Rohan Punamiya |
Mailing List
roboracing@lists.robojackets.org
Wiki Page
https://wiki.robojackets.org/RoboRacing
Calendar Feed
Add to Google