by Jonathan Spalten.
RoboJackets has a wide berth of competitions its members participate in. In an effort to broaden our horizons further, RoboNav has made the decision to participate in the University Rover Challenge. Simply stated, URC's challenge is to "design and build the next generation of Mars rovers that will one day work alongside human explorers in the field." The competition involves four missions: the science mission, extreme retrieval and delivery mission, the equipment servicing mission, and the autonomous navigation mission. The goal of the science mission is to analyze a sample in the field and detect the presence of life or life-supporting materials. The extreme retrieval and delivery mission involves collecting tools and rocks of various sizes and weights and delivering them to specified locations under a time limit, while navigating difficult terrain. The equipment servicing mission requires the teams' rovers to perform dextrous motions to make repairs to a piece of mock equipment. Finally, the autonomous navigation mission is a familiar one for RoboNav. It requires the rovers to autonomously navigate an outdoor obstacle course using GPS and visual indicators.
The team is gearing up to address these new challenges in a few different ways. The team has several small groups of members working to design major subsystems of a robot design, including a robust manipulator and an all-terrain drivetrain. The team feels confident it can apply the lessons they have learned from IGVC to help them address the Autonomous Navigation mission, and is working to adapt their approach in IGVC to the new drivetrain requirements imposed by the rougher terrain. The newest challenge for RoboJackets, the Science Mission, will be addressed by the formation of a new science subteam next year.
We'd like to feature two project teams in this article, specifically two new member teams that are working on essential subsystems. In RoboJackets, a typical new member project is organized with primarily new members doing the technical work. At least one experienced member on each new member team acts as a mentor and ensures the team can successfully accomplish their goals.
First, the arm team, which composes a few teams across disciplines. The mechanical new member team has made good progress with a basic arm design with an end effector, pictured below.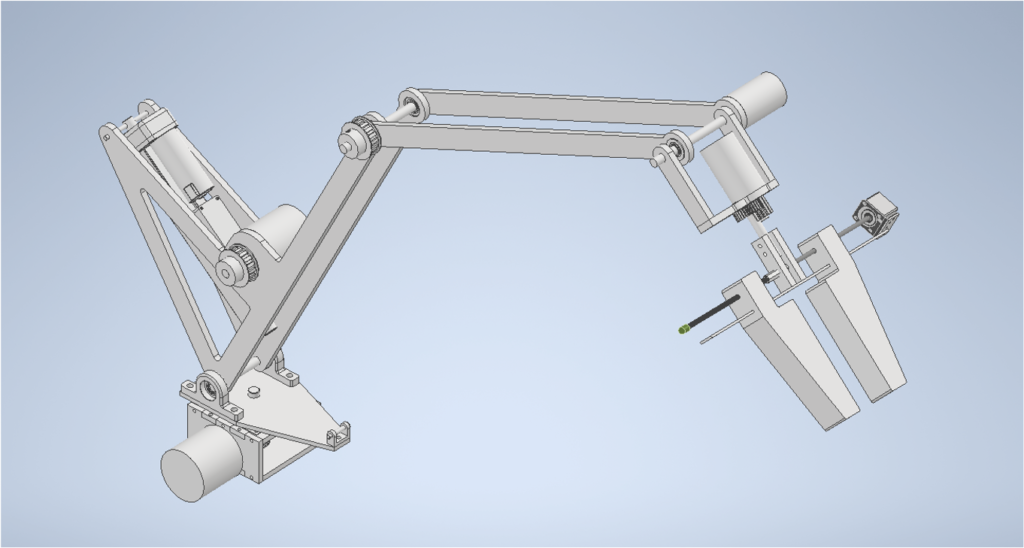 The electrical team, including Eugene Min, has been doing research on different sensors to help the driver of the robot grab items. The sensors they are considering include a camera on the arm, a force sensor to understand the grip the robot has on an object, and an ultrasonic sensor to give detailed data on how far away an object to be grabbed is. Eugene is proud of the progress the team has made so far, and noted how the remote format might be helping them:
I think it's actually to our advantage that we're entering a new competition like URC now when work is being done remotely because we're still mostly in the ideation phase where team discussions take precedence over actual hands on prototyping. We're constantly checking whether whatever we're thinking to implement is within the rules and debating hypothetical edge cases that we believe we should consider in our designs.
We asked Sana Hafeez, a new member on the mechanical team for the arm, about her experience in RoboJackets so far. She has enjoyed her RoboJackets experience so far, but misses "being able to work in a machine shop and prototype ideas." She also said: "I want to work with robotics in industry so this team is a really good place to learn new skills and apply what I've learned in the classroom." She also emphasized how the mentors on her team helped her: "When half the team is remote, it can be difficult to reach out for questions but having older members act as mentors has been really helpful. Of course they're there to offer advice or provide direction but more importantly they're a great point of contact with the rest of the team…having a mentor helps you feel connected to the rest of RoboJackets."
The other team we'd like to discuss is the drivetrain team, another new member project. They performed research on the approaches other URC teams and the real rover designs used by NASA, like the rocker-bogie mechanism. Based on their findings, the team made prototypes of 5 potential drivetrains using LegoⓇ, pictured below.
The prototypes allow the team to better determine the pros and cons of each design. The prototypes have been manually tested by pushing them across objects to assess their speed, stability, and feasibility. Only one design has been motorized, and their next steps are to motorize more to test the drive trains under consistent power more similar to working conditions.
We asked Findlay Townsend and Marvin Ren to comment on their experience working on this new member project and their experience with RoboJackets thus far. Findlay said, "I feel like I have learned a lot and met a bunch of new people" and appreciated that, as a part of the URC drive train project, "we immediately were able to work on something [important] for the club while working with upperclassmen mentors in smaller groups." Marvin emphasized the role their mentors played in their work thus far:
Akhil [Sadhu] and Cameron [Loyd] have done a good job guiding us through the new member project. They helped guide us through research on the URC competition and drive train designs, and they used their knowledge and experience to tell us the pros and cons of different designs and how we could prototype them. They helped us build the Lego prototypes and answered any questions we had whether they were about RoboJackets or Georgia Tech in general.
RoboJackets is hard at work bringing our technical knowledge to bear on a new competition, and the organization as a whole works hard to find opportunities to involve our new members in meaningful work early in their college and RoboJackets experience. We look forward to detailing RoboNav's further progress in addressing the novel challenges in URC.